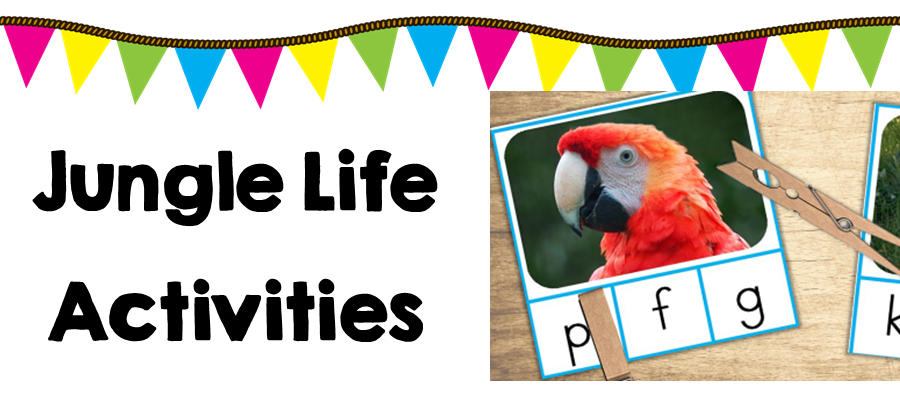 All children love the adventure of a jungle animal theme. Preschoolers and Prek students alike will enjoy immersing themselves in the jungle life and meeting the wild animals. If you are planning on having a jungle theme in your homeschool or classroom save yourself time and see all the resources and ideas I have put together for you!
---
Jungle Safari literacy printables and ideas:
#1 – Alphabet Cards:
Based on the Montessori letters we have created alphabet cards that can be used in a variety of ways (see the images below). You could used a shallow sand tray and have children turn over the cards and write the letter, have them make words with playdough or laminate them and have students trace the letters! The red and blue letters begin to draw children's attention that there are different categories of letters also – vowels and consonants!
| | |
| --- | --- |
| | |
| | Print multiple pages to a page to make letter tiles for spelling |
#2 Uppercase and lower case matching task:
Pretty much what it says on the tin! Children match the uppercase to lowercase letters. In the past I have hidden these in my sand tray and sensory bins for children to hunt and find – it adds that little extra element to the task!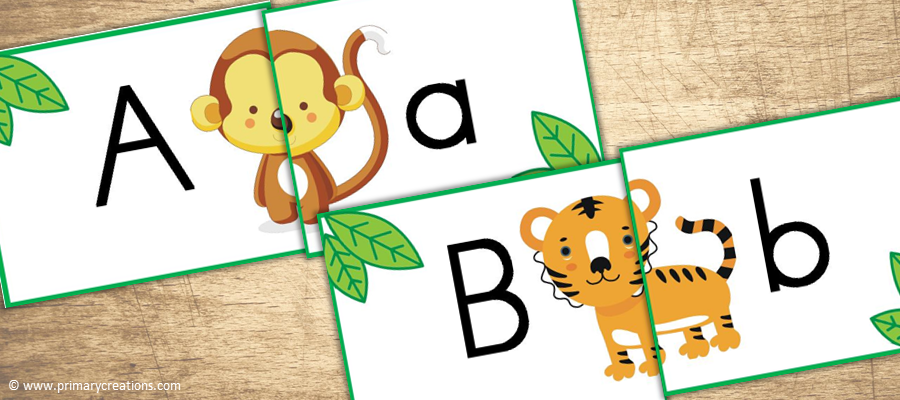 #3, #4 and #5 Initial letter sound activities:
These activities are based around children learning to develop their ability to hear the initial letter sound. There are three activities that suit a variety of abilities. The tiger puzzle begins to draw the youngest of emergent readers to the fact that the letter is the beginning of a word. The three part puzzle reinforces this understanding. Whilst the final activity requires children to say the animal's name then use a clothes peg to select the correct initial sound. They could also use a whiteboard pen to circle the answer.
#6 Jungle Vocabulary Three Part Cards:

This is another activity based on Montessori principles. This task enables children to build vocabulary. They can be used with non-readers as children are able to match up the letters on the labels and work out which label goes with which picture. I have used pictures of the real jungle safari animals in this task.

#7 Jungle Trace and Make Cards:

My daughters used to enjoy trace and make cards. I think their enjoyment was sustained in the fact that they were able to use a variety of mark making tools for the tracing and different manipulatives for making the words (magnetic letters, letter tiles, playdough, etc.).

#8 Jungle Themed High Frequency Word Cards:

This jungle theme resource is best suited to a higher ability PreK or Kindergarten child. The children can match up the words and should be encouraged to listen to the word being read, then finally repeat the word.
---
Jungle Safari math printables and ideas:
#9 Shape tracing:
These task cards will encourage children to be able to recognize, name and draw 2d (flat) shapes.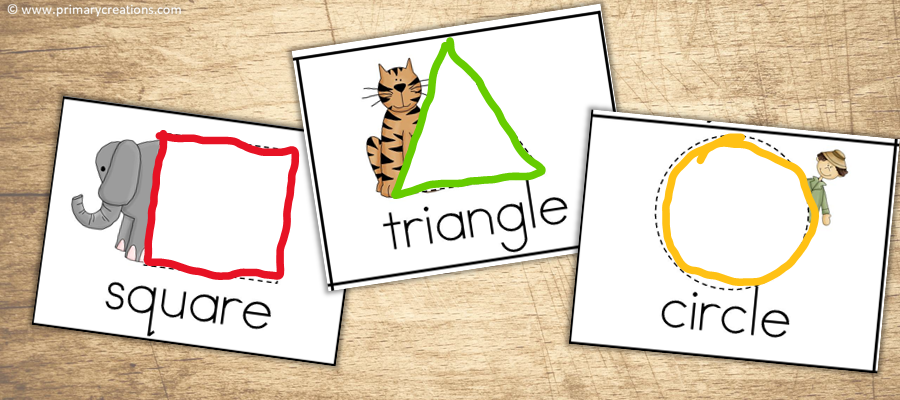 | | |
| --- | --- |
| | #10 and #11 Shape matching |
| | #12 Bananas to monkeys color matching |
| | #13 Tree Frogs color matching |
---
Jungle Safari fine motor printables and creative ideas:
#14 Cutting practice sheets:
Children can have a go at developing their scissor skills with 4 levels of cutting practice sheets! This resource is free for my TPT followers and email subscribers. A link will be sent out in each email telling you how to access the Primary Creations free resources! Join here.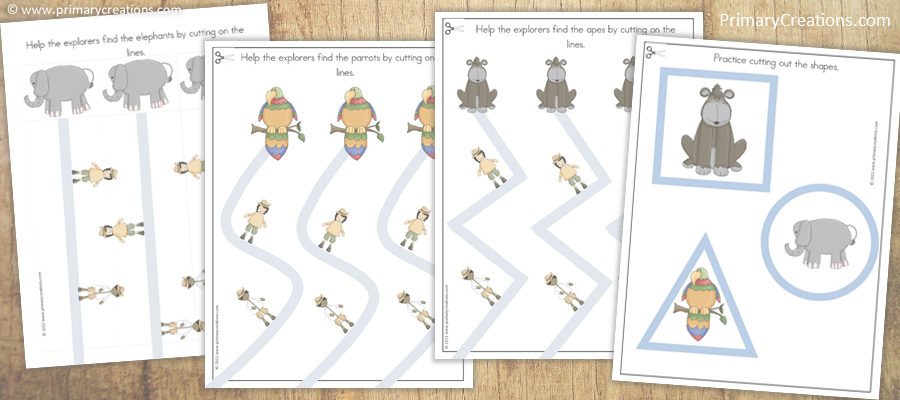 There are lots and lots of ideas on Pinterest for creative Jungle Activities for Preschoolers. I encourage you to have a look at my Pinterest board for inspiration. However, here are my favourite 6 activities to get your planning cogs moving!
Thanks again for taking the time to read this post, I hope it has given you some inspiration. Click the link below if you would like the Jungle Safari preschool printables. I haven't shown them all otherwise the post would very long!

---
---