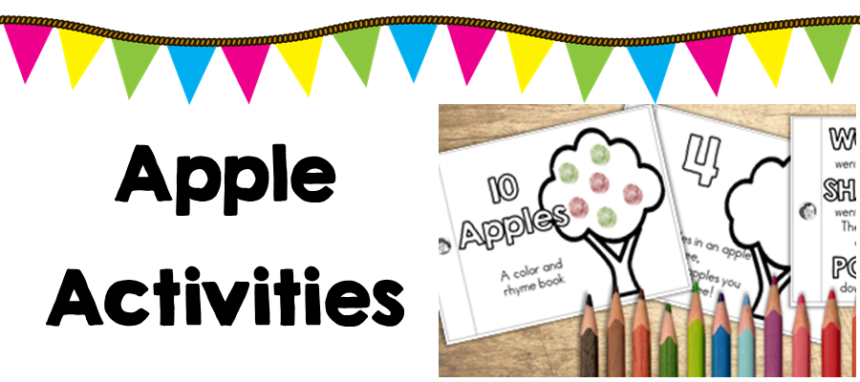 There's something almost comforting about doing an apple theme. Perhaps it signals for me the start of Autumn? The taste of a warm slice of apple pie that soothes the soul? I'm not sure what it is, I do know though that an apple theme is always well received by my autistic learners. In this post, I will show you some of the apple activities I use to engage my autistic students!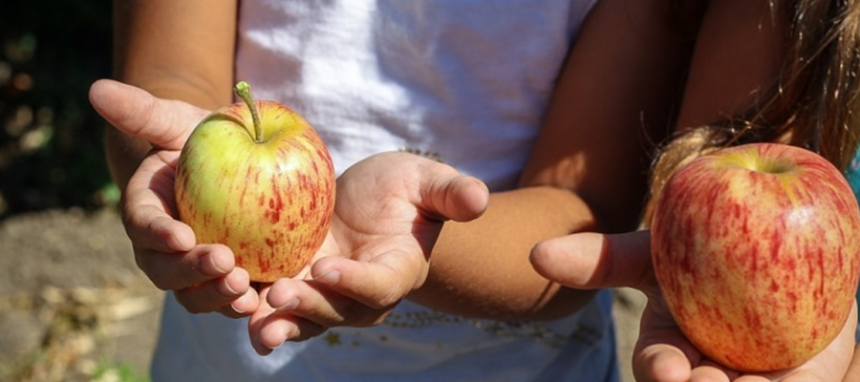 At the beginning I like to talk to my students about what they might already know about a theme I am introducing. So for example, I might bring in an apple, or a carton of apple juice and ask them what, where, when, who, why and how questions based on Colourful Semantics. I like to make a note of their current understanding. I like to give them something, it can be simple, something that awakens their senses. Something they can see, touch, taste, smell or hear.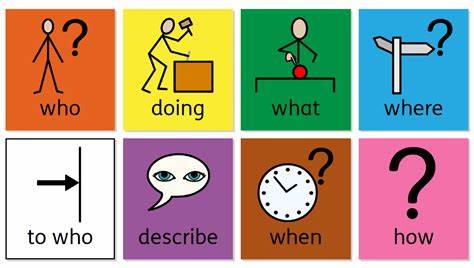 | | |
| --- | --- |
| Then I will introduce the vocabulary cards. Word wall cards may be hidden around the room and the children are instructed to hunt for the cards. Once gathered we focus on these words and I will display them either on the wall or in a pocket chart. In the past, I have also used the baseball cards with some groups to make a class picture dictionary relating to all the topics we learn throughout the year.  | |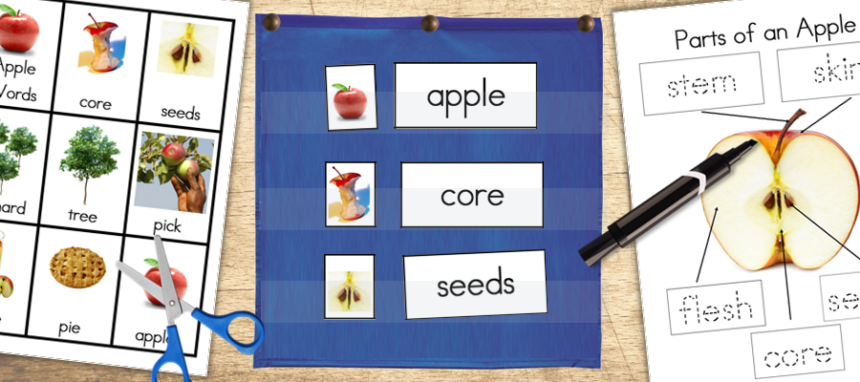 It is important to develop children's knowledge and understanding of the alphabet. Lately, I have not been teaching letters in isolation (there is a school of thought that this is not developmentally appropriate – a post for another day). So, I try and incorporate a variety of activities that expose the students to the letters. This might involve letter tracing and letter matching.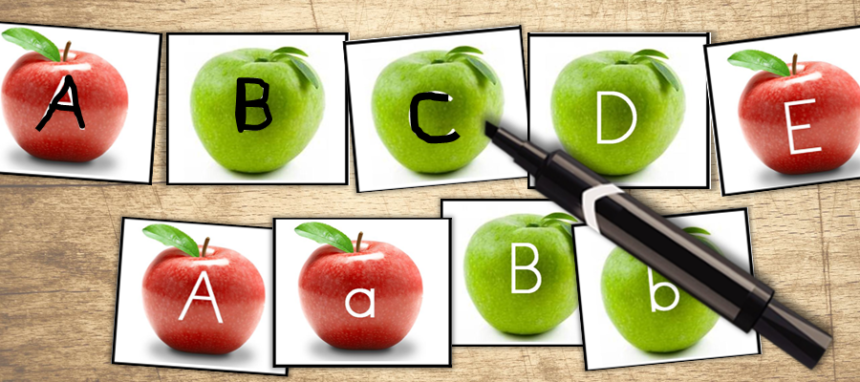 | | |
| --- | --- |
| It's also important for Emergent Readers to have access to a variety of texts. I like to use the Johnny Appleseed book for this, it also adds a social studies /humanities element to the theme! The children can color the pictures, as much as their abilities allow, and assemble the book with you. This gives you the opportunity to focus on the structure of a story, you could ask the student what happened at the start, middle and end of the story. I also have a 6 piece puzzle to accompany the book, depending on the child's scissor skills, they will cut on the lines and reassemble the picture – great for problem solving development! | |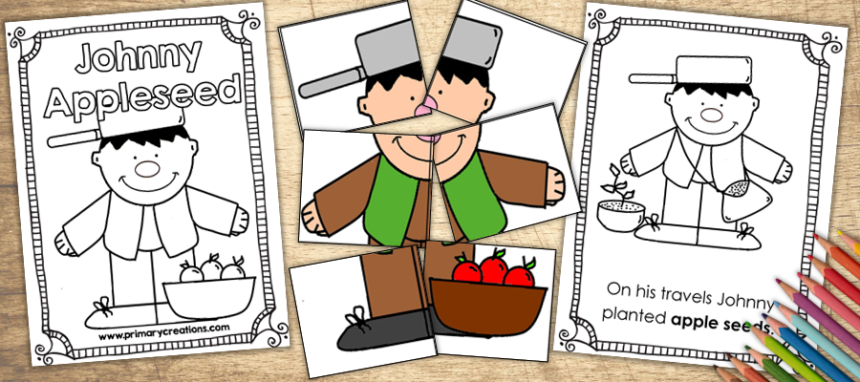 Other literacy focused activities I may include each year are the 'Say, Trace, Make' cards. I like these because it encourages emergent readers to use pictures to 'read' the words. The trace the word section supports fine motor development and emergent handwriting skills. Finally, children are encouraged to 'spell' the word using your chosen manipulatives. The building section also encourages visual perception development by requiring children to retain the shape of the letter they are looking for. I also include rhyming cards and visual perception task cards to further develop emergent literacy reading skills.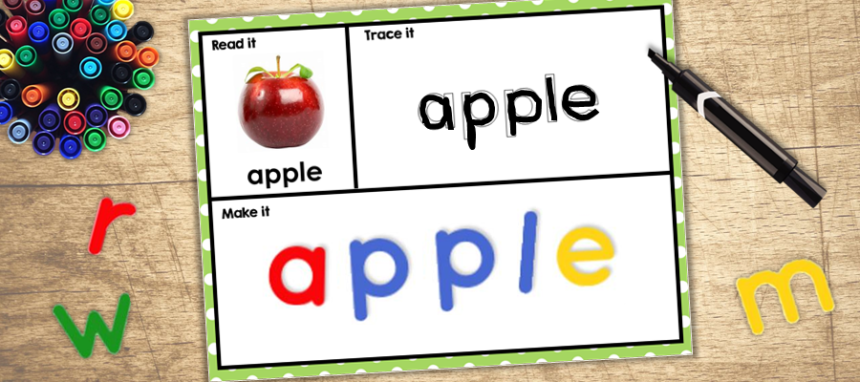 I also include several math inspired apple theme printables throughout the course of the topic. This year I have begun to use a linear calendar which I believe is more developmentally appropriate for this age range (I have this listed as a topic I want to write a post about). The number cards are ideal for this. What I like about these types of resources is that they are quite versatile. As well as using them for my calendar numbers, I use them as number matching tasks (print two copies), number sequencing as a pocket chart activity and for counting tasks. One resource and three activities – not to bad!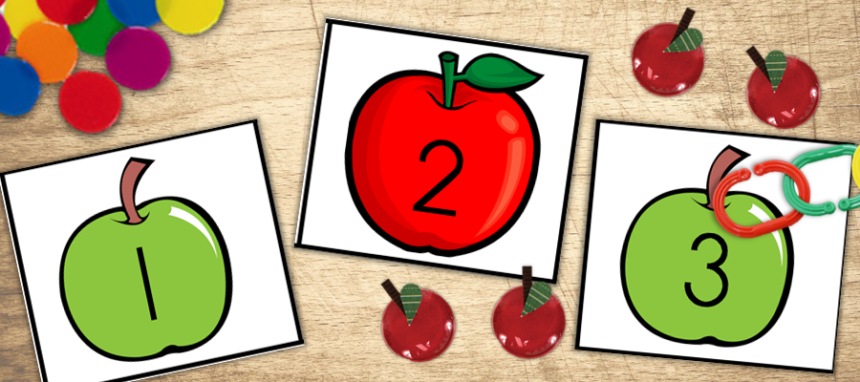 The children are also given tasks that they can do independently – these can be placed in task boxes, work boxes or workstations. I might have them complete the counting tasks, roll and color (or roll and find) and the shape matching task cards. When they have completed them, I have them show me before removing any manipulatives so I can assess their understanding. In previous years, I have also exposed children to fractions with the apple pie fraction resource. It makes a great addition to an Apple Store dramatic center!
Songs and rhymes are great for emergent language skills and often the songs can include another area of learning, such as math. In this topic I like to use the song ' 10 Red Apples'. I have created my own color and rhyme book. The children color this in, we learn the rhyme as a group and they take the booklet home to share with their caregivers!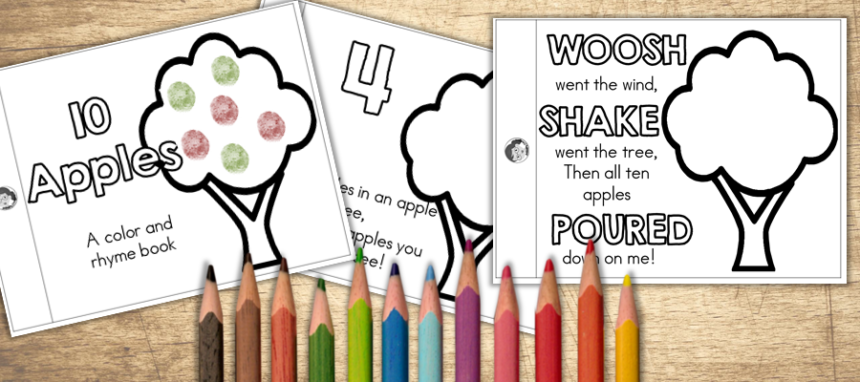 We also do lots of other creative hands-on learning. I tend to get my ideas from Pinterest. You are more than welcome to checkout my Apple Preschool Theme board for ideas! Some of my favorite creative and hands-on-learning apple activities are:

Apple printingPom-pom transferringTearing tissue paper craftApple tasting (different varieties)Making an apple pieUsing a juicer to make homemade apple juice and comparing to carton juice
Thanks for taking the time to read this post! If you would like to use any of the activities shown in this post you can download them from TPT.