Happy Days!
I've just added our latest Kinder: Write A to Z to the site!  26 "Print 'n' Go" alphabet sheets to teach letter recognition and handwriting.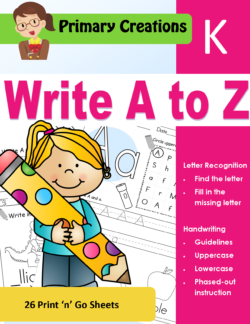 Fun Facts:
The handwriting sheets use phased-out instruction to help learners become independent at writing upper and lowercase letters. Letter recognition is reinforced through finding upper and lowercase and filling in the missing letter to make a word.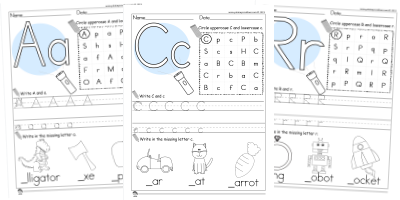 How do you get your copy?  Click here to find out more …
---
Do you need them aligned?
No worries! I've aligned this set to the Common Core AND Texas TEKS:
Common Core Skill:
-CC RF.K.1.d – Recognize and name all upper- and lowercase letters of the alphabet.
-CC L.K.1.a – Print many upper- and lowercase letters.
Texas TEKS:
-TX 1.B – Students are expected to: identify upper- and lower-case letters;
---
Follow us on Facebook for exclusive Freebies and Giveaways!!
Primary Creations on Facebook