I love St. Patrick's Day celebrations – not just because it means my little learners dress up as adorable leprechauns, then ask animals if they have seen a pot of gold but because it has a magical, fun element to it too!

Rainbows, leprechauns, shimmering gold coins, the greenness of shamrocks.

Whilst you plan, check out my teacher tried and tested activities below! Be sure to grab the free printable activity too!

There is so much you could cover in this theme! You could introduce your learners to Ireland, focus on the colors of the rainbow, talk about leprechauns and so much more.

Whether you choose to plan for just a day or a week you will find plenty of ideas here for all areas of learning. 

You can find more themes to support you with your planning on the Preschool Themes Page.
---
Keep on reading or click the area you need inspiration for:
---
St. Patrick's Day Maths Activities
When I did our St. Patrick's Day theme I set up various activities in the maths center – they do say "variety is the key to life". It's also the key to engaging young learners!
 My learners had access to:

counting cards

number tracers

simple shape puzzles

sizing cards

colored shamrocks

number strip puzzles and

simple patterns

Find the printable resources here
TEACHER TIP: Use different types of counters with the number cards. You might like to use these Leprechaun Hat Erasers to encourage children to count.
| | |
| --- | --- |
| I also used this book to help teach counting! 'Ten Lucky Leprechauns' is a scholastic book that teaches counting from 1 -10 through rhyme and a funny ending! Ideal for a circle time activity.  | |
---
St. Patrick's Day Literacy Activities
Emergent reader coloring book –

This little book encourages children to identify the written color word and select the correct color pencil/marker. It also introduces children to the Irish symbol of the shamrock.

TEACHER TIP: When printing the file, print multiple pages to a page to make mini books. It will also help you save on paper and ink!
Clothespin activity –

This helps learners to match uppercase and lowercase letters together. It also aids fine motor development if used with clothespins. 

TEACHER TIP: Use different types of pegs to help develop muscles in the fingers.

Alphabet tracing –

Letter tracers are great for emergent writers to practice letter formations.

TEACHER TIP: Provide a pot of markers/coloring pencils so they can choose what colors they would like to use – it gives them a bit of ownership of the task!
Book Corner Suggestions – 
---
St. Patrick's Day Problem Solving Activities
Puzzles

– 

I like puzzles. They encourage my learners to think and increase their resilience to independently solve problems.  This activity will also assist the development of hand-eye coordination and enhancing memory skills. I created these  themed puzzles using the many symbols of St. Patrick's Day.

TEACHER TIP: If three pieces is too simple cut the rectangles in half so the puzzles become 6 pieces. You could enlarge the print out and cut into 9 pieces!
---
St. Patrick's Day Dramatic Play Activities
This activity was created from a free scholastic min-reader. The story is simple, uses repetition' – my learners were able to memorize the story quite quickly. The children dressed up as little leprechauns (they looked so cute) then they had to hunt around the garden and ask various animals if they had seen a pot of gold. Eventually, they found the pot of gold which much to their delight was filled of chocolate gold coins!!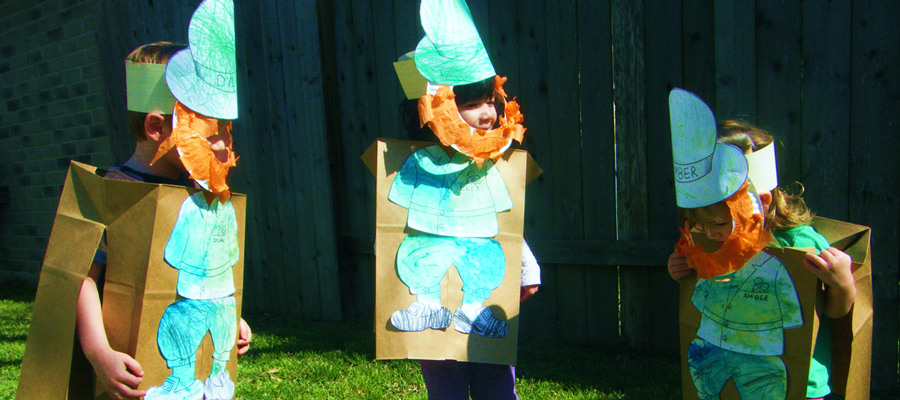 I wish I knew where I got the pattern for these super cute costumes, but I cannot find the original file anymore. So I have found these you could use as an alternative:
Here are some of the props I used and others that may help you support dramatic play:
---
St. Patrick's Day Crafts for Preschool
I like to use Pinterest as my muse for coming up with craft ideas for St. Patrick's Day.  Click the image to visit my St. Patrick's Day board:
| | |
| --- | --- |
| | Here are my top 4 crafts from my Pinterest Board: |
---
Other Preschool Themes you might like:
---
Where are you heading to next?